Some States are Running out of Unemployment Funds
Posted:
Updated: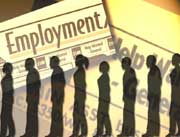 The national financial crisis has left so many people out of work that several states say they are running out of unemployment funds. KNDU asked our state's unemployment office if Washington's funds are at risk.
They say people collecting unemployement do not have anything to worry about. Unlike other states Washington's trust fund has enough money to last almost two years through the most severe recession.
Last year the state's unemployment rate was 4.5 percent and this year it's jumped to 6 percent.
Unemployment has increased in 35 states, this month alone and 32 states say their unemployment trust funds are sinking below federally recommended levels.

"Their trust funds are starting to run out or certainly run low if not out," said Mark Varadian, Spokesman for the WA Employment Security Dept.
States like California, Michigan and New York are all running out of unemployment money, but Washington has one of the largest trust funds in the nation at $4.1 billion.

"We in Washington are not in that situation, we are actually in pretty good shape compared to everybody else," said Varadian.

Even though unemployment is on the rise our trust fund is still secure, thanks to businesses and workers who want to keep unemployment programs stable.
"If we were to fall into a severe recession like we had back in the late 70's we would have 21 months worth of benefits," said Varadian.

The average unemployment check is $350, for those that are jobless, it helps them survive, but many say they do not want to be collecting for much longer.

"I'm a hard working person and when I do have a job I give 110 percent or even more. You know I do everything I can, I try to work overtime and for me not having a job just makes me feel like ugh," said Chris Tate, unemployed.
If you are out of a job it's best to utilize the Worksource Office in Kennewick. They have resume writing and job application classes. If you've recently been laid off they can help you apply for unemployment with claims kits.