Boy Finds Strength Through Football
Posted:
Updated: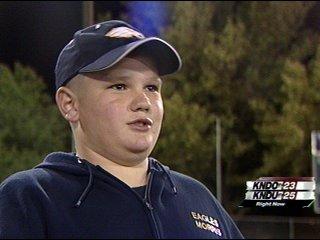 KENNEWICK, Wash-- It is on K Field in Kennewick the Eagles soar as they practice for the playoffs.

"Football is my life," says Wayde Morris, an eleven-year-old. "I can't live without a football in my hand."

But noticeably absent from the team is that same eleven-year-old boy; the anchor of the Eagles' defense.
"It's so hard watching everybody else playing and I can't be in their doing my job," says Wayde.
It is the most brutal of sports, and no longer a reality for Wayde, who suffers from a rare neurological disorder.

A game of catch is the closest he'll ever be to playing his favorite sport again. But Wayde has something bigger to tackle: his health.

"Down has been down," says Wayde's mother, Jennifer. "Down has been crying, wanting to know if he's going to live, wanting to know where we go from here, what the next step is."
The next step is take it day by day. He's perhaps stronger now than he's ever been in the past, despite carrying what he calls his battlewounds wherever he goes. Like any football team, it's not a one-man fight, and Wayde's story is no different. His team rallied together to give him the gift of a lifetime.

"I just happen to have a buddy of mine in the NFL," says his coach, Scott Urlacher. "So read that."
"You are invited to fly from Pasco to Chicago November 7th where you will be met by Brian Urlacher," Wayde reads in a letter.

It's a dream come true; a chance to live the NFL life for four days, to be with his favorite team, and a man that plays the very same position.

"I don't know what to say, thank you seems like so little," says Wayde.

A boy with so much thanks in a life of so much turmoil.

"It's just amazing the strength that I have drawn from him," says his mother.