Democratic Campaign Signs Disappearing in Yakima County
Posted:
Updated: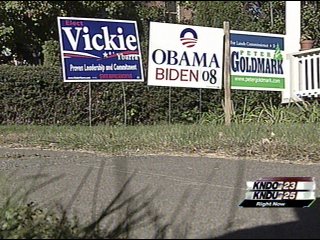 YAKIMA--Campaign efforts often get especially heated in the weeks leading up to election day. Candidate signs can be an easy target for vandalism or theft. This year sign theft is worse than normal: Democrats claim they have lost hundreds of signs throughout Yakima County.
Party leaders say close to 300 Obama, Gregoire and Ybarra signs have been stolen recently. A couple weeks ago Jim Bodeen lost his sign.
"It was the only sign in the yard and it was taken off the corner," Bodeen said.
A Democratic volunteer says the thefts are widespread.
"There'll be new ones and then they're gone the next day," Sara Purdey said. "The other day there was about seven [near Franklin Park] and now there's two."
Democratic Party Chair Paul George is not surprised so many signs are going missing.
"This is a very hot, important election," George said. "Feelings on both sides are running high."
George says more than $3,000 worth of signs have been stolen. He filed a report with Yakima Police on Monday to make sure they know sign theft has become a problem.
"This has been very expensive for the Democratic Party and for our members who buy those signs."
We were not able to reach representatives of the Republican Party to find out if they are having similar issues. Either way, George hopes that the thefts stop.
"Stealing a campaign sign, in my opinion, is hardly the best way to express your support for a particular candidate," he said.
Jim Bodeen is looking on the bright side of buying another Obama sign.

"It was $15 more for the Obama campaign."