Millions of Americans on Social Security Are Getting a Boost
Posted:
Updated: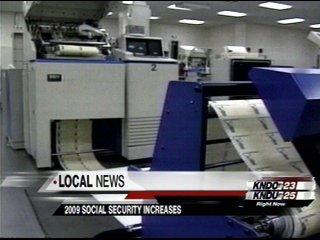 In the last year retirement funds have lost more than $2 trillion, but soon the millions of people collecting Social Security will be getting a raise.
They will be getting $63 more in their Social Security checks each month, which will make them an average of $1,150.
More than 50 million people are on Social Security and they will see this increase starting in January.
For Americans relying on Social Security an increase is great news, another plus is the monthly premiums for medicare will not be increasing.
"This is the largest increase since 1982, but the formula is the same formula that's been in place for many years," said Eileen McSherry, Social Security Administration
Adjustments are not decided by the Social Security Administration.
"Actually legislation dictates how this cost of living increase is calculated. The formula is based on the percentage increase in the consumer price index for what's called urban wage earners and clerical workers," said McSherry.
Even with a gain many retirees have felt huge losses from the stock market.
"I've done all the right things, the things I was supposed to do. I saved lots of money and put lots of money in my IRA and 401k, and we probably have a half a million dollars now at least," said Larry Ling, who is retired.

Like many Americans, Ling thought he had done everything he could to be financially prepared before retiring.

"I feel like the government is wiping all of our savings away faster than a blink of an eye," said Ling.

Economists say the rise in Social Security is due to inflation. It's largely driven by higher food and energy costs. Workers of retirement age can only earn up to $14,000 annually to still receive Social Security.