Initiative I-985, Concerns with Funding
Posted:
Updated: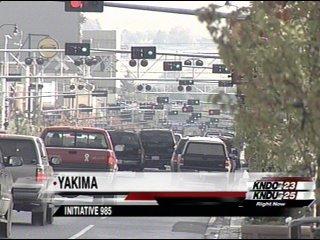 YAKIMA, Wash-- You can find Initiative I-985 on page 11 of the voters pamphlet. In an effort to reduce traffic congestion, according to the pamphlet, "the measure will open high occupancy vehicle lanes to all traffic during specified hours, require traffic light synchronization, increase roadside funding, and dedicate certain taxes, fines, tolls and other revenues to traffic-flow purposes."
"Optimize traffic flow, have a traffic light synchronization program that's top notch, but the city of Yakima will not use any local dollars to pay for it. It's gonna come from this new state account," said Tim Eyman, initiative creator.
People against the initiative are afraid it might be money spent to ease congestion problems in larger Western Washington cities. Yakima Mayor, Dave Edler has been an outspoken opponent on the initiative.
"It has the potential to take dollars out of Eastern Washington to pay for projects in Western Washington and it will do that in a time when we're fighting very hard to keep the revenues that are ours here locally," said Edler.
But, with the price of gas still hovering around three dollars a gallon some people feel the initiative would be helpful. Karen Curry of Yakima gathered close to 18 hundred signatures for the initiative.
According to the initiative a "Reduce Traffic Congestion" account would be created for the funds for the traffic reduction effort. Edler is concerned that in these tough economic times this initiative might not be the best allocation of money.
"The things that we're battling as cities, we're letting firemen go, policemen go, we're eliminating parks and rec from our city budgets and it's the result of the initiative process," said Edler.