Race For Franklin County Commissioner in District 2
Posted:
Updated: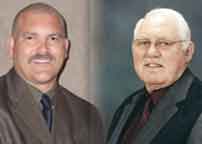 PASCO, Wash.-- The doors of Franklin County could soon be open to new leadership.
Up for grabs is the title of County Commissioner in District 2. Topping the agenda is redistricting the county.
"We started with some maps in 2006, we had a commissioner who didn't want to okay them, we consequently didn't get our final map which was draft 4, until this Spring," said Bob Koch, current Franklin County Commissioner for District 2.
"I don't think nearly enough has been done to get that accomplished, it's been delayed numerous times when it definitely could've been done," said Lee Barrow, Republican candidate for Franklin County Commissioner for District 2.
Barrow blames the county for unnecessary spending.
"I've seen excessive trips, the commissioners could get together and talk about which travel is important," said Barrow.
"It's been put to good use, I'm out lobbying for Franklin County and for the state of Washington, when I go on these trips," said Koch.
Koch says it's his experience that makes him more qualified.
"Mr. Barrow really has done nothing in the county, besides be a Deputy Sheriff," said Koch.
"Actually I'm quite qualified for the job, approximately 70% of the budget goes to criminal justice," said Barrow.
Both candidates agree they don't want to raise people's taxes, but disagree on the biggest issue facing the county.
For Koch, revenue.
"We want to address not only jail space but our own office space somehow," said Koch.
For Barrow the economy.
"Gas prices trickle down to everything else, food, every other commodity," said Barrow.