Both Governor Candidates Talk about Attack Ads
Posted:
Updated: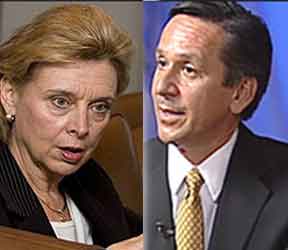 The Washington Governor's race is predicted to be very tight again. Both candidates have several attack ads running, recently Governor Gregoire and Dino Rossi opened up about the commercials.

Gregoire and Rossi both say the attack ads are not true, of course that would be expected. Some of the ads say Rossi wants to lower the minimum wage while others claim Gregoire has not been tough enough on sex offenders.

Four years ago the governor race was decided by just over 100 votes, now this time the same two candidates are facing another race the game of he said she said.

"You need someone who will not result to those kind of tactics to be your next governor. I guarantee that's the kind of governor I will be," said Gregoire.

Attack ads are all over the channels in Washington.

"Chris Gregoire and her friends have attacked me since July on everything from my Italian heritage to my kids dog," said Rossi.

Another cat fight is Rossi's claim that Gregoire was not tough enough on sexual offenders.

"She also released early from prison 3,100 violent felons. Three of them killed police officers. 1,300 sex offenders register as homeless they have no idea where they were," said Rossi.
Gregoire disagrees, and finds the ad appalling.

"I want you to know that every republican and every democrat, every prosecutor, police and sheriff everyone of them has said how terrible those ads are and how wrong those ads are," said Gregoire.

They also disagree about the state of Washington's budget.

"We do not have a deficit today, we're one of the few states in America that has a surplus, so I'm actually very proud of it," said Gregoire during a speech in September.

"She claims somehow she had a surplus it's like you jumped off a 50 story building and on the 45th floor you're saying how everything is still okay. At about the 15th floor the sun's still shining. It's not the fall that's going to kill you, it's that sudden stop," said Rossi.

Other commericals claim Rossi is not going to support women's health benefits and Gregoire did not give funding to stem cell research like she promised.

With the race just a couple of weeks, you will still be seeing a lot of these attack ads.