Richland Garbage Handlers Are Going Green
Posted:
Updated: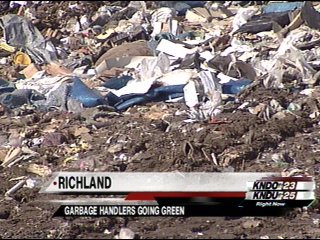 RICHLAND, Wash-- At the Richland Landfill waste managers are trying to be more green in the way they handle the garbage and they say this new process is saving a lot of tax payer dollars.
Four months ago a few workers at the Richland Landfill had an idea to make biofuel and use it in all of the off-road vehicles.

"We have to make sure that things run no matter what so it's either going to run on diesel that we are making right now. It could be natural gas in the future, but if we can't do this all that waste that comes from the City of Richland we really don't have any place to put it," said Kip Eagles, Solid Waste Manager.

The biofuel comes from vegetable oil from local restaurants and a couple of additives.

"The vegetable oil first comes through here through the first filters here to get out the big chunks of chicken parts or french fries or whatever," said Scott Barhan, Fleet Safety Officer.

They've used about 1,700 gallons of biofuel and saved $7,000 tax payer dollars that would have been used on gas.

"When I first found out about this process on the Internet I just wanted to see if it would work," said Barhan.

This is just one step in some changes waste management is looking into, recycling is another possibilty.

"What we're looking at are different ways to handle our waste and lots of diversion tactics on what would be curbside recycling and the other would be a green waste program where we composite the material," said Eagles.

Waste managers say once a recycling program gets started the landfill will last longer which is much better for the environment.