Tri-City American Billet Families
Posted:
Updated: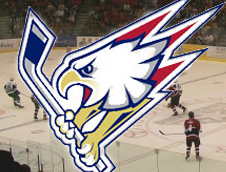 KENNEWICK, Wash.-- Home away from home for the Tri-City Americans isn't just the hockey rink, it's with their billets.
For Jill Williams it's almost become a tradition.
"It's like an extended family," said Jill Williams, who has been a billet for ten years.
And like any extended family the Canadians are expected to clean up.
"Help clean the table after dinner, help with the dishes, they're supposed to keep their rooms clean, haha, take out the garbage when it's full," said Williams.
We asked one player if he cared about helping out. "Oh no, it's our pleasure," said Brendan Shinnimin, Tri-City American hockey player.
Jill and husband Dennis have been volunteering as billets since 1998, and get a $200 stipend for food from the team. They also get season tickets. This year the Americans made a deal with Tyson meat, for a little extra help.
"We got 45 pounds of hamburger meat and a whole bunch of top sirloin steaks, sp so that's going to help out quite a bit with the grocery bill," said Williams.
Right now their Pasco home, is home to three players, and Jill says she loves having the boys around.
"It's something very rewarding, it really is," said Williams.
And it's just as rewarding for the players.
"She's been doing this for a while, so I know she's really into it," said Jordan Messier, Tri-City American hockey player.
"Are caring people who don't really care about the money, they're just here to make us feel at home," said Mason Wilgosh, Tri-City American hockey player.
"Dinner table is just really funny, really funny stories, sometimes it gets a little inappropriate but I'm not going to get into that, haha," said Shinnimin.
It's been 10 years of memories with only a minor setback.
"The only tough part about being a billet is sometimes you have a player that gets traded, or gets sent home that's kind of tough, when you have to say goodbye," said Williams.
To become a billet first you have to fill out an application, and then go through a security background check. Tri-City Americans staff say right now they have 17 families hosting players.