Deaf Student At Central Washington Feels University Isn't Providing Proper Services
Posted:
Updated: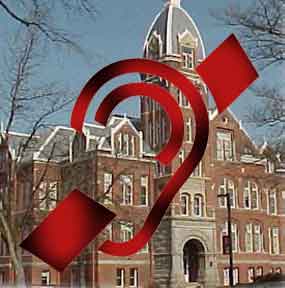 ELLENSBURG--A Central Washington University student who is deaf believes the college is not giving him a chance to succeed.
College is hard but how daunting would it be if you thought you were getting the wrong information in your classes? That is what one Central Washington student is going through.
Glenn Engels is one of nine deaf or hard of hearing students at CWU. He relies on transcribers to take notes for him in his lectures. One of his transcribers left him at a big disadvantage.
"She didn't show up on the first day of class," Engels said. "she was late for the second, third, fourth meetings of the class too."
It got so bad he complained to administrators, and she was removed from his classes.
"We're working with that person to make sure that they're putting out the quality of work that we expect," Assistant Coordinator for Student Disability Services Ian Campbell said.
Engels said he is still adjusting from last year when two transcribers were in his classes.
"They would switch off every 15 or 20 minutes or so that they could rest their hands," he said.
Only one transcriber helps been with each student since February. The Vice President of Student Affairs said the economy made the cut necessary.
"When we looked at how people were being teamed, it was in a manner that wasn't the best economically," Keith Champagne said.
Engels said he had to drop a class because of the change.
"So [people] say, wow you got really good grades in two classes," Engels said. "I end up not taking a full-time load, so grades don't reflect my performance."
CENTRAL WASHINGTON DISABILITY SERVICES SAYS THE UNIVERSITY PLANS TO HIRE TWO MORE TRANSCRIBERS IN THE NEAR FUTURE ... THEY HOPE THAT ADDRESSES SOME OF GLENN'S COMPLAINTS.