Overcoming the Odds at Kennewick
Posted:
Updated: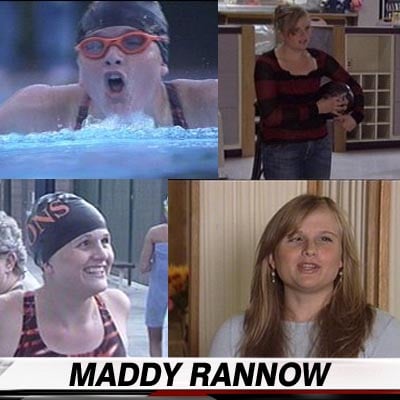 KENNEWICK, Wash. - She's captain of the swim team. She's on the Lions bowling team, and had a high game of 214 last year. Maddy Rannow does it all barely seeing a thing.
"I'm 90 percent blind," she said. "I'm completely blind in my right eye and partially in my left. I just have vision in the lower-left quadrant."
When Maddy was six years old, her life changed forever.
"It was Christmas Eve," she recalls. "I went up to my Mom, and said 'This is neat. If I shut my eye, I cant see anything out of the other eye.'"
"My heart stopped," said Kathleen Rannow. "I said 'Go show your father what you just showed me.'"
"I took her in for a CAT Scan," said Maddy's father John. "X-rays were put up on the lighted screen and they showed, right in the middle of my daughters skull, a tumor about the size of the golf ball."
The family was rushed to Seattle. The tumor was growing fast. It had already blinded Maddy in her right eye. Another two weeks, and she could die.
"I had never seen my Dad cry like that before, so I knew it was serious," she said.
Doctors performed a risky procedure called a brain resection. The opened her skull, separated the two spheres of her brain, and removed 95 percent of the tumor. Radiation took care of the rest, but that came at a steep cost. The vision in her left eye was now all but gone as well.
"I was angry because there was nothing I could do about it," said Maddy.
The little girl with the big smile would live to smile again.
"We're people of faith, and that's how we dealt with it." said John. "And Maddy's strength. What she's able to do with what she can see..."
Maddy wasn't gonna let a minor thing like vision slow her down. This kid was determined to play sports, but it wasn't pretty.
"I tried volleyball, and it was painful," she said. "I got hit in the stomach and the head."
"We said, 'You know, maybe this isn't for you.'" said Kathleen. "And she said 'No I can do it.'
John continues "It was difficult to see her on the basketball court going the wrong way and not understanding, and just get nailed in the face with a volleyball. She wouldn't take no for an answer."
She tried em all: skiing, basketball, cross country. In track, her parents actually ran alongside with her. That didn't last long.
"I kept running and eventually they got tired," she said "Finally they let me go. They still get nervous, but I think they understand I'm okay."
Maddy eventually found a couple of sports that fit her well.
"With swimming there's nothing to look at but the bottom of the pool, which is great."
Out of the corner of her one good eye, she can make out the contrast. "I just follow the line on the bottom of the pool and turn when I get to the end. The contrast is good. If it was blue on yellow, it wouldn't work. I don't have any peripheral, so I cant see the people I'm racing against. If I wanna do something, I'll find a way to do it."
That same mentality has turned her into a steady force at the bowling lanes. "I can tell you there are white things down there, but I can't see the shapes of it." However she is able to see the arrows on the lanes. From there, she can set her feet and make her approach.
"I have to do it over and over again."
Things may never come into focus for the high school senior, but Maddy's winning spirit is clear as day
"This is my fist year coaching the team," said Kennewick swim coach Jason Hart. "when I asked them who the captain was, they all raised their hands and said 'Maddy's captain. Maddy's captain of this team.'"
"I try to look at it as a challenge, something that make me stronger" said Maddy.
"I'm so proud of her," said Kathleen Rannow. "she never mopes about what she cant do, only what she can do. Even when I was pregnant she was a fighter. I'm anxious to see what she does in the future."
The Kennewick School District accommodates her by printing large text. Not only can Maddy read it, but she has a 3.5 GPA, and plans on studying PreMed next year in college. She says she'll somehow find a way to be in the medical field.