Hasselbeck Back In Los Angeles
Posted:
Updated: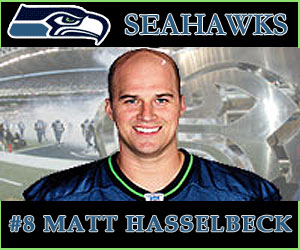 RENTON, Wash. (AP) - Matt Hasselbeck has returned to Los Angeles
for a second visit with a back surgeon, leaving Seattle Seahawks
coach Mike Holmgren to prepare for Sunday's home game with
Philadelphia with Seneca Wallace as the team's starting
quarterback.
Holmgren said yesterday Hasselbeck returned to Los Angeles to
have another evaluation on the bulging disk in his back. The disk
is pushing on a nerve that is weakening the 33-year-old
Hasselbeck's hyperextended right knee.
Unless Hasselbeck passes a strength test so he can practice
before Friday, he will miss his fourth consecutive game on Sunday
for the 2-5 Seahawks against the 4-3 Eagles.
In his second straight start, Wallace completed 15 of 25 passes
for 222 yards and one touchdown, with no turnovers, in a 34-13
victory during the weekend at San Francisco.
(---)
Holmgren says starting middle linebacker Lofa Tatupu may not
practice much this week because of a groin injury he sustained
against the 49ers, but is likely to play this week.
Starting defensive end Patrick Kerney injured his surgically
repaired shoulder at San Francisco but is also likely to play
against the Eagles.
Wide receiver Deion Branch is likely to be out again after some
confusion over what the team thought was a bruised heel. Branch has
played in just one half of a game since reconstructive knee surgery
last February.
(Copyright 2008 by The Associated Press. All Rights Reserved.)