Getting Your Tires Ready for the Snow
Posted:
Updated: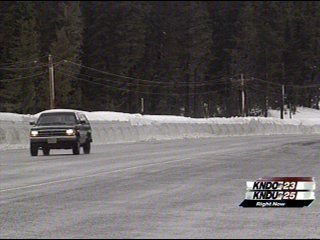 YAKIMA, Wash.- The roads may look clear and clean now but winter is coming up and in a few weeks, the roads could be covered in snow.
"We know it's coming and you can't stop roads from becoming slippery," said Todd Trepanier from the Department of Transportation.
Last year, we had our first snow fall in early November and the DOT says the first few days are always the most dangerous.
"People aren't used to driving on winter roads, get your driver awareness up right off the bat," said Trepanier.
The DOT suggests getting snow tires if you're going to be driving long distances, going over the pass or driving on back roads. Snow tires can range from $300 to $700.
"When you're trying to get out of your drive way or go over something it would be worth it instead of getting stuck or calling a tow truck," said Lucas Pruneda.
Pruneda works at Commercial Tires and says a cheaper alternative to buying snow tires is siping your regular ones.
"Opens up the tread faces and allows more traction for original tires," said Pruneda.
Snow tires are suggested for city roads. The pass and other areas that see heavy snow do require treaded tires and sometimes even chains.
You can begin using snow tires this Saturday. To beat the winter rush, the DOT suggests starting to prepare your tires for the snow as soon as possible.