Safety Tips To Keep Your Family Safe This Halloween
Posted:
Updated: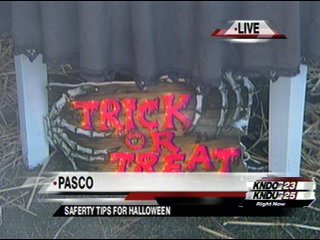 KENNEWICK, Wash.-- Trick or treat may not turn out to be sweet, if parents and kids aren't careful.
"Sometimes when we get excited about something that's fun, we forget about the safety aspects of it, we need to be safe and we need to keep our kids safe," said Jeanne Jelke, with the Benton and Franklin Red Cross.
Red Cross staff say the best way to keep Halloween from getting real scary is to follow a few simple tricks:
*Wear a costume with bright colors, or reflective material.
*Carry a flashlight, or glow sticks.
*Plan your route, and share it with your family.
*Never go inside a stranger's home.
*Cross the street on corners or a crosswalk.
*Know your phone number and address.
One thing to keep in mind this Halloween isn't just safety for kids, but for your pets.
"Halloween time does scare the animals, the ghosts and goblins out there, people knocking on your door, just the strange noises, not all animals are used to that," said Patty Miner, with Petland in Pasco.
Some good advice to keep Pet-O-Ween safe include:
*Keeping candy wrappers out of reach.
*Chocolate is not safe for pets.
*Keep animals in a quiet area.
*Make sure they wear collars with ID tags.
*Keep black cats inside, because they can be victims of pranks.
There's one more thing to keep in mind, if you plan on dressing up your pet.
"You want to make sure you don't have real tight things around their arms, because rubber bands and things like that can actually cut their circulation or hurt them," said Miner.
Most kids trick-or-treat at night, so having parents joining the fun is always a plus.
"If possible it's good to have an adult with them, just to make sure everything is good," said Jelke.