What to do if You Run Over a Pet
Posted:
Updated: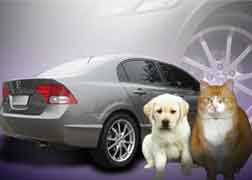 TRI-CITIES, Wash-- It's getting darker earlier and it's harder for driver's to see what's on the road, especially small animals. KNDU talked to animal control officers to find out what you should do if you hit someone's pet.

They say if you hit an animal with your car you need to stop. Try to get the animal off the road to not cause traffic and call 9-1-1, they'll direct you to animal control.

If you don't stop you could be ticketed or even taken to court.

"A dog hitting a car in motion, the car wins the dog is almost always severely injured and the people have as much adrenaline going as the pet," said Susan Thorson, Veterinarian at Meadow Hills in Kennewick.

If you hit a pet the law says you have to stop.

"Everyone of the cities ordinances says that you can be charged with a violation if you do not notify the proper authorities. That authority can be as simple as 9-1-1 saying hey I just hit a pet," said Angela Zillar, Animal Control Director.

Not stopping means you could get a ticket or you could be cited for animal cruelty.

"Notification is essential to getting the animal the help it needs, or just getting if off the road so it doesn't create a road hazard for somebody else and somebody doesn't swerve to the animal in the road and then hit another family or another vehicle," said Zilar.

Injuries to an animal can range anywhere from bruising, broken bones, head trauma and death.
"The shock itself can kill them so even if they look like they're okay I'd take them to a veterinary as soon as possible," said Thorson.

If you hit a dog be careful when you approach it. Sometimes they are in such shock that they are more likely to bite you. Veterinarians say take a blanket and scope the dog up and then take it to the vet.