Moxee Vineyard Finishing Grape Harvest
Posted:
Updated: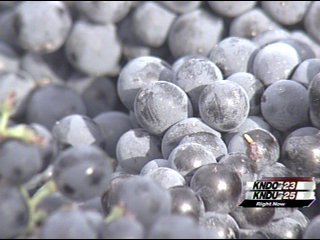 MOXEE--Workers are picking the last of the grapes in local vineyards. Cool temperatures have pushed harvests back a few weeks.
It is late in the season, but not too late. The grapes are not as sweet as in years past, but the crop as a whole will be.
Jeff Dill of Calibri Vineyards said the cooler weather this year has put the harvest behind the normal schedule.
"The grapes have been much slower to accumulate their sugar," Dill said. "They've spent a lot more time on the vine this year."
He thinks the extra time will prove to be worth it.

"There's a really good balance between sugar and acidity and the flavors."
Pickers have to be thorough. They have to make sure no leaves make it into the bins.
"The first thing we do is clear all the bins," Foreman Pedro Reyes said. "we need a lot of quality fruits for the wine."
"[You've] got to be careful that you don't put a lot of leaves in with [the grapes]," Dill said. "The wineries don't like a lot of materials in the fruit."
The delayed harvest season has workers trying to pick all the grapes by the end of the week.
"Every year it's different, this year is a weird year because of the weather," Reyes said.
Picking is the hard part. Dill says the grapes are all already sold.
"Demand for the milebecks is really high," he said. "A lot of the small wineries use it for blending, so they buy 2 or 3 tons at a time."
Dill and his wife opened the vineyard five years ago. They have almost recouped their start-up expenses, and Dill expects to make a significant profit this year for the first time. Calibri's future looks sweet.
"We wanted to get the vineyard going," Dill said. "Hopefully we'll build a winery here and that'll be my retirement job."