Benton and Franklin County Ballot Returns
Posted:
Updated: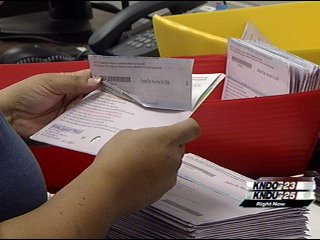 TRI-CITIES, Wash-- With the election just days away KNDU wanted to see where your ballot is. 47 percent of the ballots have been counted in Franklin County and 48 percent in Benton County. That does not include Friday's ballots.

Both county auditors expect to receive a high volume of ballots on Monday. They plan to work through the weekend counting votes.

"Once a voter drops the ballot in the mail box or drop-off box it's then brought to the tabulating center. We then scan the bar code so the signature is compared," said Zona Lenhart, Franklin County Auditor.

If the signature does not match up with the voters record their could be a discrepancy.

"If we have a problem with the signatures not comparing which is not unusual because signatures change over time. We have to contact the voter and let them know. Give them a chance to remedy the situation," said Lenhart.

In Benton County they have trained signature examiners.

"After it's been through two sets of eyes then we send a signature discrepancy letter out to the public," said Bobbie Gagner, Benton County Auditor.

In Franklin County ballots are stored locked shelves and in Benton County they are locked in a closet and sealed in blue bags.

"We are working tomorrow and are hopeful that we will have some of the ballots on Tuesday we receive on Monday," said Gagner.

Races that are predicted to be close include the presidential and governor races; also Moser vs. Klippert for state representative and both of the commissioner races.