Columbia Basin Badger Club Gets Feedback on Tri-City Economy
Posted:
Updated: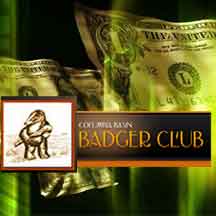 PASCO, Wash.-- The economy isn't just weighing down on Wall Street, many people in the Tri-Cities are starting to feel the pinch.
"A year ago we had 21.3% earnings in our fund, this year we're going to be negative," said Sandy Matheson, with the Department of Retirement Systems.
Sandy Matheson is talking about pension funds, an issue many of the baby boomers in the crowd rely on.
"I was born in 1946 and I graduated in 1964," said Pat Underwood, a member of the club.
"The condition of our retirement system is an ultimate concern of mine," said Underwood.
Others in the crowd had other concerns.
"I volunteer my time at a food bank and what we're finding is a lot of young people who are challenged in this type of economy," said Art King, another member of the club.
One expert says even though the economy nation wide is hurting, the Tri-Cities isn't looking so bad.
"The Tri-City economy until most recently, the most recent data, is holding very well," said Craig Eerkes, with America West Bank.
Others think unemployment will be going up in the near future.
"People that are making $25 to $30 an hour, will be looking for jobs at minimum wage at $12 to $13 an hour," said Laurie Tufford, with Consumer Credit Counseling.
Some overall tips from this panel to improve your economy include:
*Paying credit card debt.
*Don't sell assets.
*Don't take out from your 401-K.
*Don't use a reverse mortgage.
*Trying to stay healthy.