If you want to finish first, you first have to finish
Posted:
Updated: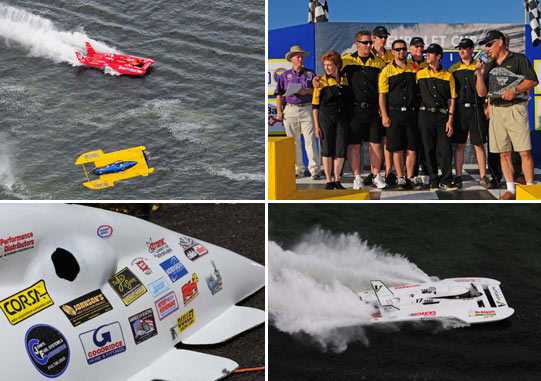 PHOTOS - Mark Sharley
The old racing adage certainly applies here. "If you want to finish first, you first have to finish".
Take a look at the Thunderboat (G) results in the North American Challenge Cup Series, won this year by Dustin Echols in the G-17 Schucks Auto Supply - Venture Bank - Ted's Red Apple Markets. You have to look close but when you do you'll discover the following. Take away the engine issues the G-13 Jet Chevrolet.com - Tempo experienced at Chamberlain-Oacoma and Port Angeles which limited the team to one heat finish. Now, allowing for the typical performance of that craft throughout the 2008 season and finishing every heat and everything else that happened this season remained the same... under that scenario, R.W. Dick Lynch would have won the Thunderboat title over Dustin Echols, by 5 points!
Stats are fun, especially in the off season. Statistics like these demonstrate the necessity of finishing heats........and in any form of motor sport, finishing a race is a major accomplishment, let alone winning. That's a key element behind ULHRA's CAP - Contingency Awards Program developed by Muncey Marketing. The CAP rewards all teams that qualify for the Final Heat in each ULHRA category; Unlimited Lights (UL), Thunderboats (G) and Lighter than LIGHTS (LTL). In other forms of motor sports Contingency Awards are often limited to the winner or top two placements. In ULHRA the seventeen (17) CAP participating sponsors recognize the outstanding effort and performance required to qualify for the Final and as such all Final Heat teams reap the CAP benefits.
Next year the above near-championship scenario can be possible, twice; that is winning a title without winning a race. Owing to the growing level of competition in the Thunderboat Series and possibly double the number of entries, or more, in 2009, and the attrition that goes with the G-Series territory almost anything is possible. Those who first finish may indeed finish first. Recently the Ted's Red Apple Market - Westport/Grayland Chamber of Commerce Thunderboat Invitational was announced for 2009. This 4 race "series within a series" is expected to significantly increase the participation in the Thunderboat series which is for hydroplanes that are larger than Unlimited Lights with bigger, more powerful automotive based supercharged racing engines. Teams that enjoy the challenge of tuning and racing these big block supercharged engines of more than 1400 horsepower and trying to keep them running, also enjoy the "straight up" racing format in classic Thunderboat style. What that means is, no "score-up buoy" and lanes are set at the exit pin of turn number two on the way to the starting line, leading to more "dicing" in the 5 minute warm-up period and more flying starts. This is how the "thunderboats" of old did it, and this is how the Thunderboats (G) race today. In 2009 they will compete both for the North American Challenge Cup Title and the Thunderboat Invitational Championship.
Certainly on the Unlimited Lights' side there is no better example of that old racing adage than the UL-14 Miss Critical Logic team of owner-driver Paul Becker. Part of this series since 2003, Paul achieved his first ever UL race victory at Seattle last August. He also had an outstanding record of finishing heats this year which has been a team hallmark over the years. Then in Silverdale he took the points lead only to lose the lead and the potential championship in that spectacular blowover while leading in the Final Heat. The team first learned to finish and ultimately learned to finish first. If not for the Silverdale accident Paul Becker's team may have become only the 5th team in Unlimited Lights' history to win the season championship. Who will step forward in 2009? It'll be interesting to watch, and it begins at the end of April in the Valley of the Sun, Phoenix (Chandler) AZ.
Congratulations to the Hopp Racing team for establishing two new kilo straightaway speed records at Devil's Lake near Lincoln City OR. The records are pending official APBA approval which is expected. The team that holds the UL-110% speed record of nearly 162 mph, Hopp Racing set a UL-80% record this month.
For those of you new to Unlimited Lights, supercharged engines were first introduced in 2001. The original engine specs allowed for a supercharger speed of 110% or 10% faster than the speed of the engine. Over the course of two seasons it was determined that the "blower speed" at 110% provided far more horsepower and torque than initially estimated and put the carburetor fed (naturally aspirated) engines at a distinct disadvantage.
Ultimately the supercharger maximum speed was reduced to 80% as a means of providing equitable competitive opportunity for both engine types. Hopp Racing at the end of the 2002 season established the UL-110% record and now also holds the UL-80% record. Under APBA rules only race craft in classes that competed in circle racing heats and scored points during the preceding 12 months can set kilo records. So, since the 110% engine spec is not currently legal in Unlimited Lights that's a record that likely will remain in the Hopp Racing stable for years to come.
The American Power Boat Association (APBA) revised the specs for the Grand Prix class this year, and Hopp Racing, which did compete in the GP class in APBA events this year also set a new GP speed record. This came just a week after Greg Hopp clinched the team's fifth Unlimited Lights' championship at Port Angeles. There were reports that the Hopp's also set for the first time a Thunderboats (G) speed record. However a major APBA requirement for any speed record is the hull must have successfully competed and completed a racing heat in that class in the 12 months preceding the record attempt. Over the last 12 months the Auld hull has been competing as an Unlimited Light and GP but not as a Thunderboat (G). Nonetheless it was a spectacularly successful weekend.....no make that month.....for Hopp Racing in Washington and Oregon, and their accomplishments are very noteworthy.
Straightaway speed records are a major challenge and often can be very hazardous adventures. Not everyone even tries. I recall Wil Muncey telling me that his late father, Bill Muncey, set a mile straightaway speed record in the legendary Unlimited Hydroplane Miss Thriftway at 192.001 miles per hour and that single attempt was more than enough. ULHRA historian Fred Farley wrote "Muncey admitted years later that he had grave doubts about attempting the record run and regretted almost immediately having committed himself to it.
"I'll do this for you once, but never again," he told MISS THRIFTWAY owner Willard Rhodes. He honestly believed that he would be killed and put his will and other personal matters in order before stepping into the boat. His intense anxiety notwithstanding, Bill stepped onto the dock after setting the record and did an on-the-spot TV interview, acting as nonchalant as ever.
Never again would Bill Muncey try to break the mile straightaway record.
Just three months away are the annual meetings and Awards Banquet for ULHRA, Inc. It is set for Saturday, January 31st. A Board of Directors meeting will be held including elections for expired terms on the board. That evening, a gala banquet and awards program, will be conducted as ULHRA looks ahead to the 2009 season.
Despite the current, and temporary economic conditions, ULHRA teams will be ready to follow the words of their late friend and former fellow team owner Doug McIntosh who would always sign-off by saying................ "Let's Go Boat Racing".
John Lynch
"Voice" of ULHRA Racing