Headed for Playoffs, Central Picks up More Awards
Posted:
Updated: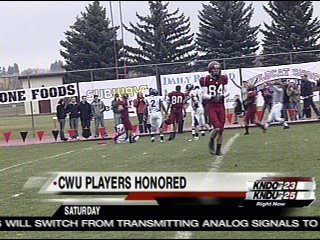 SPOKANE, Wash. - Central Washington University redshirt freshman Justin Helwege and junior Courtney Smith have been named the Great Northwest Athletic Conference Offensive and Special Teams Player of the Week, respectively, as announced Monday by the conference office.

Helwege, a wide receiver, had his second consecutive 100-yard receiving game with three game-changing catches for 108 yards in a 49-21 win over archrival Western Washington. In the second quarter with CWU protecting a 14-6 lead and facing a third-and-20 from its own 10-yard line, Helwege made a 46-yard reception to key a nine-play, 80-yard TD drive. In the third quarter, his 37-yard catch took the ball to the three-yard line to set up a Jerome Morris (Los Angeles, Calif./Jefferson HS) touchdown. Then in the fourth quarter, he had a 25-yard reception to set up a two-yard run by Morris for another touchdown.

Smith was named the Special Teams Player of the Week for the third time this season after an 84-yard kick return on the game's opening kickoff set up the first of seven touchdowns by the Central offense in the game. The Wildcats scored three offensive plays later to take a 7-0 lead and they never trailed en route to the 28-point win over the Vikings. For the season, Smith is now averaging 42.1 yards per kick return on 10 returns, having scored two touchdowns of 95 yards or more.

Central Washington finished the regular season with a 10-1 record, including an 8-0 record in GNAC games. The Wildcats will continue their season this Saturday (Nov. 15), traveling to West Texas A&M University for the first round of the NCAA Division II playoffs. Kickoff from Canyon, Texas, is set for 1 p.m. Central Standard Time (11 a.m. Pacific Standard Time).