Union Gap Murder Suspect in Custody
Posted:
Updated: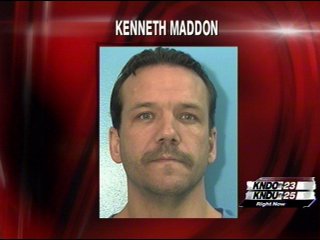 YAKIMA, Wash-- As officers surrounded a home on Race Street murder suspect, Kenneth Maddon, walked-up to the nearest officer and turned himself in.
Following leads a team of Yakima and Union Gap police officers made a large perimeter around several homes near Kiwanis Park. Finding the blue GMC Jimmy that Maddon had been seen in early, officers converged on a house.
Maddon then came from another area and calmly surrendered to the closest officer. He is wanted in connection with the murder of Donald Pike, which happened in the early morning hours on Carey Street.
"Well, we're very relieved to have caught this guy quickly, that it went smoothly and safely and it went on without further incident," said Sgt. Gregory Cobb, Union Gap Police Department.
Officers responded to the original crime scene on Carey Street around 6:30 Tuesday night because the suspect vehicle was spotted. The blue GMC Jimmy pulled into the driveway turned around and then rammed the next door neighbors SUV.
Officers called this a bold move and perhaps a threat to witnesses. They questioned some people in the area but, eventually officers found the blue GMC Jimmy and Maddon on Race Street. He was taken to the Yakima County Jail and booked.

Sergeant Cobb said detectives are still following leads, but Maddon is suspect number one.