Online High School Offers Challenging Alternative For Students
Posted:
Updated: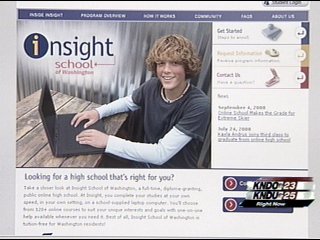 YAKIMA, Wash-- Jordan Davis is a 16-year-old who loves to show dogs. She competes around Washington and even out of the state as a junior handler.
"If I was gonna travel and be in public school I'd have to drop out," said Jordan Davis, a high school junior.
Jordan now goes to high school via an online school called Insight School of Washington. It's an online accredited public high school. Students are given a laptop to do their school work. They must meet state standards including passing WASL and a senior project.
"Yes, we are a Washington public high school and we are under the host school district of the Quillayute Valley School District in Forks, WA," said Frank Walter, head of school for Insight.
In 2005 legislation passed allowing online high school and now people across the state utilize it. Around 60 students in Yakima and over 100 in the Tri-Cities area.
Jordan said the best part of the program is the portability of a laptop. School is where ever she is and she has a busy travel schedule.
"A couple of weeks ago I was in California and then a couple weeks before that I was in Idaho and next week I'm gonna be in Arizona and California. So, I can travel which is really nice I don't have to worry about missing school," said Davis.
Up until this year Jordan went to traditional public schools. She said Insight is actually more challenging and she's not the only student that benefits from Insight. Students with learning or physical disabilities have found online schooling fits their needs.
"Traditional high school that is time and place bound doesn't work for all students," said Walter.
Jordan's goal is to make it to the Westminster Dog Show in New York, but she said school comes first.