Richland Teacher Wins National Award
Posted:
Updated: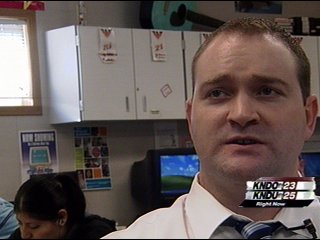 RICHLAND, Wash-- A Richland teacher will receive a national award next week for lowering his school's drop out rate and increasing post-secondary education.

Brian Sites won the Crystal Star Award for his work at Rivers Edge Alternative High School in Richland. His efforts have raised the rate of students going to college from 10 percent to 60 percent. Next week he will travel to Atlanta to receive the award.

Taking that next step is what these students are doing, but not in the traditional way. In his classroom there are no lectures and school is not everyday.
"There's a lot of adversity that my students have had to over come and it just makes me really proud everyday that they show up that's a day they could have not been in school," said Sites.

Rivers Edge is where students who are way behind go to catch up. Sites' class students make a contract that they will spend 25 hours a week on school work, with a minimum of five hours in the classroom.

"You feel like you're in a family you're all there together, all here for each other and everybody is there to help you," said Savannah Doublin, student in Site's class.

The head of that family is Mr. Sites, he's there to guide them in their independent studies. His work has helped many students graduate who thought they were too behind.

"The dialogue has to be personalized to their unique situation so I think it comes down to what are their goals and how do they see themselves getting there," said Sites.

That's why Sites is garnering national recognition for his help in keeping students in school. He won the Crystal Star Award.

"He checks on me everyday asks me if I'm doing okay, how I'm doing in school, if I need any help," said Doublin.
The award is sponsored by the National Dropout Prevention Network. Their mission is to reshape school and community environments to meet the needs of students in at-risk situations.