Yakima County Flood Mapping Changes
Posted:
Updated: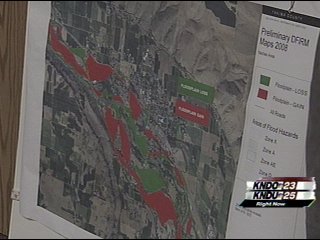 NACHES, Wash-- Yakima County and FEMA are teaming up to update flood plain maps. Areas surrounding the Naches River are the first to be remapped.
These maps are guidelines for flood insurance and the changes could affect whether or not you have to carry flood insurance. The zoning can also influence the rate of insurance, depending on the flood risk of the property.
Representatives from FEMA and Yakima County were on hand tonight at Naches Town Hall to answer questions. Flood plain mapping changes for several reasons. First, new digital technology means more accurate mapping. Second, a large flood in '96 changed the path of the Naches River.
"Some people that are newly in the flood plain will be required to carry flood insurance by their lender. However, others that are no longer in the flood plain their lender may remove that requirement for flood insurance," said John Graves, program specialist with FEMA.

Washington State also has strict rules for building on flood ways. However, these maps are not finalized and meetings like this one are held for community feedback. The new mapping should go into effect sometime next September.
The best way to find out where your property falls in the new flood mapping is to go to Naches Town Hall and look at the maps.