New Laws in Washington To Get A Commercial Driver's License
Posted:
Updated: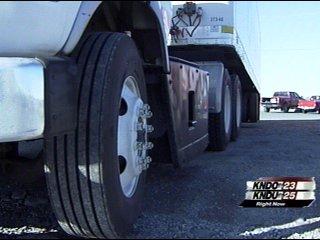 KENNEWICK, Wash.-- Jumping through hoops to get a Commercial Driver's License can be a big headache for drivers.
"When I took the class two years ago, I went through six weeks of it," said Joel Hammon, a truck driver.
It's six weeks, Joel Hammon says cost him about $1,400.
"I think it's a lot of money for what you really get out of it, I don't think you should have to pay that much," said Hammon.
But unlike Hammon, other drivers never took classes. They got into trucking, the old school way.
"My dad taught me back when I was a young kid, grew up on a farm, you know that type of thing, I didn't have to take any classes at all, basically get the book, read it,go drive with an instructor and basically pass the test, and then that's it," said Joe Anderson, another truck driver.
But after 19 years on the road, Anderson says the classes are not a bad idea.
"I think it's a good thing honestly, and it's got its bad points, where are they going to come up with this kind of money," said Anderson.
And some say it's the high cost that could backfire, especially for an industry that's already hurting.
"For 160 hours of training, the average in the state of Washington is at $4,000," said Bud Stephens, Owner of Stateline Trucking School.
"We have a drastic need for truck drivers today," said Stephens.
Many agree the training is needed, but the money is lacking.
"I very much agree with this law, the problem that I see is in the funding," said Stephens.