Seminar to Help Parents Know When to Take Kids to ER
Posted:
Updated: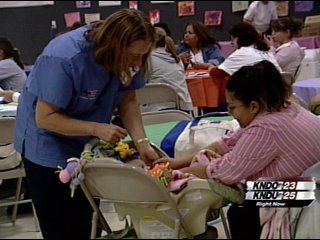 RICHLAND, Wash.-- Do you know when to take your child to the doctor's office or emergency room? Staff from the Benton Franklin Head Start and nurses teamed up to teach parents a few tips and tricks for taking care of sick kids.
They were giving out goodie bag with everything from a first aid kit, to band-aids, to a digital thermometer, and a book.
Head Start staff say too many parents rush to the emergency room every time their child gets sick. Joel Cortina, Operations Manager for Head Start, says, "A lot of parents, especially with their first born children, they want to take their kids in whenever they get sick, whenever they have an earache, whenever they have a fever, a stomach pain."
Maria Cuellar, mother of six, says, "With my first one, I was always scared, I didn't know what to do, but child after child, you just know what to do." Cuellar's kids range from 12- years-old to four months old, and she says it gets easier every time.
A few guidelines for fevers are: If your baby is younger than two months and has a fever of 100.2 degrees or higher, is between two and six months old and has a fever of 101 or higher, or is older than six months and has a fever of 103 degrees or higher, experts say call the doctor.
Make sure you know how to take their temperature the correct way. Cortina says, "They [Parents] have been told to use rectal thermometers for children and it shouldn't be done anymore." Always take their temperature under their armpit or under their tongue, and never use a thermometer with mercury.
Also, when giving your child medicine, make sure you have the proper dose, and make sure you measure it correctly. Never substitute a kitchen spoon for a medicine spoon with accurate measurements on it.