Group rallies outside City Hall to protest 'Prop 8'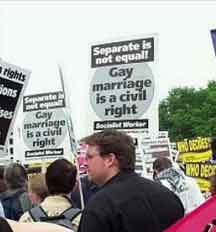 SPOKANE, Wash. - More than 100 people gathered Saturday morning outside Spokane City Hall to protest Proposition 8, the controversial proposition that changes the California Constitution to eliminate the right of same-sex couples to marry in California. The proposition provides that only marriage between a man and a woman is valid or recognized in California.
The Spokane rally began at 10:30 a.m. and lasted about and hour and a half. Spokane police were on hand due to a threat rally organizers received while planning the event, however the rally was executed peacefully.
During the rally several activists took the stage to voice their opinions and frustrations. Spokespersons assured the audience their message was that of equality and a voice for equal rights.
"We are here to rally for the rights not to be fired from our jobs simply because we are gay, transgendered or bisexual," said Elsa Sjunneson, a speaker at the rally. "We are here because we are rallying for the right to be recognized as equal citizens, not held to a different standard from the rest of this country, but held equal."
The Spokane rally was one of many held across the country to protest the ban of same-sex marriages. Crowds gathered near public buildings in small communities and major cities including New York, San Francisco and Chicago to vent their frustrations, celebrate gay relationships and renew calls for change.
During the Spokane rally, no one spoke up in support of the ban on same-sex marriages.
The film company North by Northwest was also on scene Saturday at City Hall filming scenes for a movie. KHQ is told the company shot some of the rally to be used in a film.
KHQ also spoke with proponents of the same-sex marriage ban and you can hear from them on KHQ Local News at 6. Stay with KHQ.com for more on this story.