Dad used 2 sons in attempted burglary in Wash.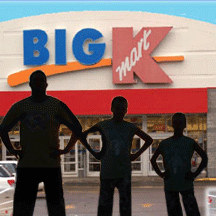 Associated Press - November 16, 2008 3:15 PM ET
BURLINGTON, Wash. (AP) - Police say a 28-year-old man used his two young sons - 7 and 4 - to help him attempt to steal nearly $8,000 worth of goods from the Burlington Kmart.
Jesus Barragan of Sedro-Woolley has been charged in Skagit County Superior Court with second-degree burglary, first-degree theft and two counts of illegal possession of the drugs Clonazepam and Flexeril in the attempted burglary.
Police say when they arrived at the store, which was closed, at about 10 p.m. Tuesday, they found a van with its doors open and motor running parked in front of the front entrance. They say an automatic door to the store was open and they saw Barragan's two sons with their arms loaded with merchandise. Later, Barragan gave himself up to police.
The father told officers he had recently lost his job and needed food to feed his children.
Court documents say the merchandise added up to nearly $8,000 and damage to the store totaled more than $2,000.
Barragan is being held at the Skagit County Jail in Mount Vernon on $50,000 bail.
Information from: Skagit Valley Herald, http://www.skagitvalleyherald.com
Copyright 2008 The Associated Press. All rights reserved. This material may not be published, broadcast, rewritten or redistributed.