Whispering Turbines to be featured on The History Channel
Posted:
Updated: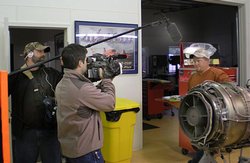 The History Channel just wrapped a few days of taping in Hamilton, Mont. at Whispering Turbines, Inc. (WTI) where several of the top unlimited hydroplane teams have their motors maintained and serviced. In addition to the working with the world's fastest race boats, WTI's Tracy Bratvold and son Adam also service helicopters used in the Pacific Northwest's timber industry.
The History Channel's Peter Jones and Jaron Berman documented what happens when R & R Conner Logging's helicopter has mechanical troubles. The turbine motors are taken out of the helicopters and rushed to the repair facility in Montana were the Bratvold duo work around-the-clock to get the motors serviced and back in the air.
The taping is for a series called AX MEN where rugged men make their living doing one of the most dangerous jobs in history... Logging. Their mission: to retrieve timber perched on mountainsides too steep to access with machines.
But this is no easy task.
For more than a hundred years, larger than life characters, many of whom are members of logging families that go back to the time when the West was being settled, have spent their days among towering trees and powerful machines and their nights in outposts far from the comforts of civilization.
AX MEN will tell remarkable stories detailing the history of the logging industry, showing how technology has transformed life for today's logger, while the struggle of man versus nature stays the same.
Over the course of thirteen episodes, AX MEN follows four logging crews through a season in the remote forests of northwest Oregon. Plagued by mechanical failures, relentless weather--including a hurricane that ripped through the area--and violent and unpredictable terrain, these brave men risk their lives retrieving the very timber we depend on to build our country. Snapped cables, runaway logs and treacherous machinery are among the many dangers that threaten their lives and safety everyday. Anything and everything can go wrong on these sites and the price of even the simplest mistake can mean death.
The show featuring Tracy and Adam Bratvold is slated to air in April or May of 2009.
SOURCE: Owen Blauman