Parking in a Handicapped Spot Illegally Means A Quick Call To Police
Posted:
Updated: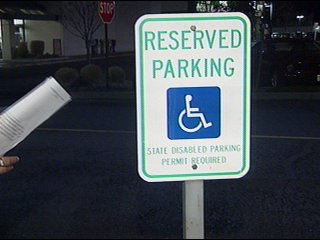 PASCO, Wash.-- For one man a quick trip to his local store, turned into a parking lot nightmare.
"I hope people that park in there will get a stiff fine," said David, who lives in Pasco.
58-year-old David is disabled and parks in a handicapped spot. But last week he couldn't. He tells us why.
"I found a person, about 20 to 25 years old parked in the disabled place," said David.
David says he talked to the assistant manager and was told the city owns the parking lot, and there was nothing they could do. But police say that's not true.
"The parking lots are owned by the business," said Sergeant Ken Lattin, with the Kennewick Police Department.
So did David do the right thing? Police say it's not wrong to notify the store, but there's a better solution.
"The best bet is to call us, we'll find the owner of the vehicle and issue a citation," said Lattin.
Store parking lots are usually private property, and it's difficult for police to give out some kinds of tickets. But handicapped parking violations are an exception.
"Especially during the holidays we'll get the, 'Officer, I just ran in for a second', 'I just needed to pick something up', and 'There was no place to park'. Well, guess what? They're not authorized to park there," said Lattin.
It's a lesson, David says people need to learn.
"It upsets me a lot but also I feel sorry for those people who think that they have to be over the law, they're more disabled than disabled people," said David.