ABRA tries to save Unlimited Hydroplane racing in a difficult economy
Posted: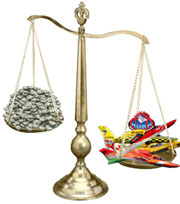 ABRA tries to save Unlimited Hydroplane racing in a difficult economy

More>>

Friday, November 21 2008 5:10 PM EST

2008-11-21 22:10:03 GMT

With the Evansville Freedom Festival in trouble, in debt, and trying to sell the very assets it needs to put on a hydroplane race, the The ABRA has stepped to the plate with a proposal to keep racing intact in 2009..

More >>

With the Evansville Freedom Festival in trouble, in debt, and trying to sell the very assets it needs to put on a hydroplane race, the The American Boat Racing Association has stepped to the plate with a proposal to keep racing intact in 2009 in the Indiana city.

More >>
EVANSVILLE, Ind. - It's a huge step the American Boat Racing Association has taken to try to save the struggling Evansville, Indiana Unlimited Hydroplane racing event and it may portend the future of hydroplane racing.
The ABRA is taking on the reponsibility for planning, and securing sponsorships, for the 2009 Thunder on the Ohio. And they're doing it during one of the toughest economic environments most sports marketers have ever seen.
RELATED...


ABRA steps in to save Hydroplane racing in Evansville >>
HYDROINSIDER.COM

Evansville race date may move >>
HYDROINSIDER.COM LIVE BLOG
It's a bold move and a big challenge. Not only are sports sponsorships becoming harder to find these days, but the economic downturn makes it even tougher.
Behind-the-scenes, Dr. Ken Muscatel, owner of the U-25 Unlimited Hydroplane racing team, has been working with a group of people to put together a financing package to make things work. He recently stepped in to help out the struggling San Diego race site, leading to a successful 2008 event.
"A general outline of a deal was agreed to by most of the parties involved," association Vice Chairman Ken Muscatel said. "I'm optimistic we can put a final deal together."
"Today's action is a first step for ABRA. We have always said our first priority is to continue the tradition of the Evansville race," said ABRA Chairman Sam Cole on HydroInsider.com's Live Blog.
RELATED...


Read ABRA News Release >>
HYDROINSIDER.COM
Reaction to the announcement has been mostly positive by Evansville residents and those associated with boat racing. But, as U-3 owner Ed Cooper says, it's a big leap.
---
"Obviously, the people that have been putting this race on for a long time, they struggle to make it successful."

"It's a big leap on their part. It's showing their confidence that (a strong local) structure is in place that they are willing to take this risk, especially in this (economic) climate."
"Many more will have to be taken. But this is at least part of the way. The ABRA is very interested and hopefully the same kind of response comes from Evansville."
U-3 OWNER ED COOPER, JR.
---
Cole would agree it's a leap of faith to take on the race and sponsorships - something the ABRA has never done before - but it appears to be the best way to continue the tradition of hydroplane racing in Evansville.
The Board of Directors of the American Boat Racing Association voted to acquire the physical assets of the Evansville Freedom Festival along with specified liabilities as a first step towards holding the 31st running of Thunder on the Ohio next summer.
ABRA will take possession of the docks, buoys and other assets needed to put on the race. Those items had been put up for sale to pay off debts. The Freedom Festival committee owes in excess of $75,000 - most of it due to the ABRA for the 2008 race.
---
"We're looking at it with guarded optimism," ABRA Chairman Sam Cole said. "Hopefully we're going to pay folks off and get them back involved."

ABRA CHAIRMAN SAM COLE ON WEHT-TV
STORY LINK >>
"It has not been an easy process, but we see some daylight at the end of the tunnel."

ABRA CHAIRMAN SAM COLE IN EVANSVILLE COURIER PRESS
STORY LINK >>
"Ken Muscatel and Tom Sawyer have been instrumental in this process and there are others we will rely upon in the weeks ahead. Our Board understands the importance of this event and is moving forward to solidify all of the elements needed to ensure that we will race and bring the City of Evansville a first class event that will exceed everyone's expectations."
ABRA CHAIRMAN SAM COLE IN THE MADISON COURIER
STORY LINK >>
---
Optimism is the word of the day. "If we can cross our T's and dot our I's we can put it together pretty fast," Muscatel said.
Still, it's going to be a tough road. Some of the big sports sponsorship deals are unraveling in light of the economy and the financial situation with financial institutions. And there's a pivotal question: will it be acceptable for banks, auto companies, insurance companies and others seeking bailouts to buy sponsorships when they're getting taxpayer money?


---
"You'd be naive to say you shouldn't do anything other than expect financial services will be cutting back exposure to sports. These are extraordinary circumstances.''

SEAMUS O'BRIEN, WORLD SPORT GROUP


---
Delivery company DHL recently stopped to re-think its sponsorships. DHL has been a major sponsor of Major League Baseball and came within moments of cutting its ties altogether, opting to cut back instead.


---
"In addition, traditions such as The Buick Open, The Merrill Lynch Shootout, and anything sponsored by Lehman Brothers, American Express, DHL, and countless others will either have to be renamed or simply discontinued."

BLEACHER REPORT
STORY LINK >>
---
Not everyone is cutting back. Lexus, which has expressed an interest in hydroplane racing in the past, is involved with professional tennis (USTA) and golf (USGA). But that seems to be the exception. Buick let the PGA know that it will be cutting back its sponsorship, including no longer providing courtesy cars for players.
The NY Giants and NY Jets of the NFL have been searching for some time for somebody to buy naming rights to their stadiums. While the $800 million dollars price tag is making it difficult, the economy may prove it to be impossible.
---
"What we are experiencing now is unlike anything I've ever seen in the sports world."

SAL GALATIOTO, SPORTS BUSINESS INVESTMENT BANKER
"Some companies are simply too distracted right now to entertain such a complex, long-term deal. They see the value, but it's not something they can focus on at the moment."

MARK LAMPING, CEO MEADOWLANDS & FORMER ST. LOUIS CARDINALS PRESIDENT

---
Financial Week recently reported that Eastman Kodak didn't renew its sponsorship with NASCAR, which had been in place for the last two decades. Likewise, Safeway scaled back its sponsorship with LPGA and Johnson & Johnson pulled out of Olympics sponsorships, what amounted to a $100 million dollar deal through 2012. And earlier this year, General Motors/Cadillac dropped out of sponsoring the Master golf tournament.
"I think every property, whether it's a pro sports team or a local [athletic] event is going to be feeling the pinch," William Chipps, senior editor of Chicago-based IEG Sponsorship Report, told the Los Angeles Times. "When you look at corporate marketing expenditures, sports sponsorships often are one of the first things to go."
The impact of the economy is being felt by motor-sports. NASCAR is tied closely to automotive sponsors and since that industry's in trouble, the ripple effect has hit NASCAR. "NASCAR as an industry is not immune," NASCAR Chairman Brian France told ESPN. "We have to work very hard to be good partners and work through these challenging times."
---
"Some team owners are in dire straits and we understand that. Most of the country is in dire straits. We can't expect to operate as an island and be oblivious to what's going on."
NASCAR CHAIRMAN BRIAN FRANCE ON ESPN.COM
STORY LINK >>
---
Individual race teams are feeling the pinch. Beacon Plumbing recently announced it was ending its sponsorship of the U-37 Schumacher Racing team hydroplane, leading in part to the decision by Jane and Billy Schumacher to put the team up for sale.
RELATED...


U-37 Schumacher Racing Unlimited Hydroplane team up for sale >>
HYDROINSIDER.COM
And securing new sponsors will be difficult. Many of the traditional sources for sports sponsorships are going away at every level.
---
"If these economic conditions persist for several years, it will do some real damage to pro sports."

KENNETH SHROPSHIRE, WHARTON SPORTS BUSINESS INITIATIVE, IN FINANCIAL WEEK
STORY LINK >>
---
"Focus every dollar on sales productivity, and sponsorships are not as consumer-focused as advertising," said Sunni Boot, president of media agency ZenithOptimedia. "It is more peripheral. Sponsorship is about building your brand over time and building social and cultural connections over time. And if you are going to the government for a bailout you can't say [that you are] going to spend millions sponsoring an Indy car."
When the big boys feel the pinch, is it fair to think the less-maintstream sports will feel it even more? Or will companies look for more affordable opportunities to get their message out? Companies like Johnson & Johnson, having just freed up $100 million in sports marketing dollars, will certainly cut the amount of overall money they spend on sports marketing. But will they cut it all? Or will they look to invest it in new ways and new sports marketing opportunities?
These questions could be key to the survival of pro sports - including hydroplane racing - as a sponsor-underwritten business.