Tips for Thanksgiving Safety
Posted:
Updated: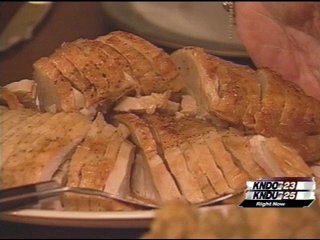 KENNEWICK, Wash-- Believe it or not, thanksgiving can be one of the most dangerous days of the year. That's because so often we overlook small things as we cook. So keep your eyes open. Firefighters say it's important to read the instructions on the food before you cook it.
For example, if you plan to deep-fry your bird, make sure you know how much oil to use, because too much can spell trouble.
"We really hope that people take the time to read the instructions and make sure that they only put the right amount of grease in there, because as soon as it starts to boil over you have a real potential for fire and injury there," says firefighter Scott Mclellan of the Kennewick Fire Department.
Firefighters say make sure you keep an ABC certified fire extinguisher near you at all times, and be sure not to use water on a grease fire--that actually spreads the grease, and flames.
They also say keep your eyes on children and pets, because if they start to run around, there's a chance they'll knock something over.
But the biggest key to your safety this thanksgiving, is just double check everything you're doing. Turn off the oven, turn off the stove and unplug unnecessary equipment before you sit down for your thanksgiving dinner.