A Man is Shot in the Head Outside of Finley
Posted:
Updated: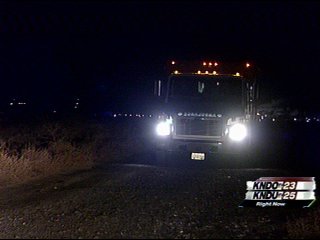 BENTON COUNTY, Wash. - A man is flown to Kadlec Medical Center after being shot in the head outside of Finley.
Benton County Sheriff's Deputies say it happened just after 4:00 p.m. Sunday in an area called "Hover" off Ayers Road. They say they're not sure if he was shot by someone else, or if his gun backfired and hit him. The area is well-known in Finley as a place where people go shooting often.
A witness named Eric Lahdinen was near the man when he was shot. He said he heard the gun go off, and the man then screamed. Lahdinen explains, "He was kind of grabbing his face and he had blood coming down. He didn't look like he was in very good shape." Lahdinen also said he didn't know the man but he looked like a white man in his 30's.
Captain Devin Helland with Benton County Fire District 1 tells us they don't know the man's condition but he did have either a gunshot wound or a fragment wound to his head when they found him. "We don't know how bad off the victim is right now. We did load him into the helicopter, he was conscious and talking to us. The bleeding had stopped so that was a good sign," said Helland.
Benton County Sheriffs closed off that area of Ayers Road, and had to comb the area looking for any possible suspects or other witnesses that were around at the time of the shooting.