More Than 20 Cars Vandalized in Kennewick On Thanksgiving
Posted:
Updated: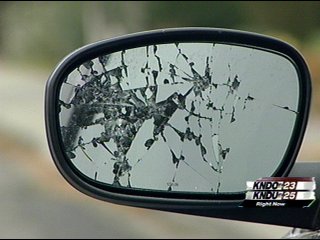 KENNEWICK, Wash.-- For Brett Bowen it wasn't just one, but two cars hit, right outside his house.
"They got the lense broken, got the whole bracket coming out the window, it's definitely not the way you want to spend your Thanksgiving morning, talking to a police officer," said Bowen.

"It's pretty heartless that somebody would do something like this, especially on Thanksgiving morning. The dogs didn't hear anything, we didn't hear anything , it's still a mystery," said Bowen.
It's a mystery Kennewick police are working hard to solve.
"We're asking anyone who saw anything last night that could be related to this, please give us a call," said Corporal Glenn Ball, with the Kennewick Police Department.
But Bowen's neighborhood in Hansen Park is just one of many areas hit.
"West Kennewick we found several, and Central Kennewick, but for the most part the lion's share have been in West Kennewick," said Ball.
Police say it's not unusual for this type of crime to happen during the holidays.
"Notoriously on a holiday weekend, we're trying to figure out, why that is, are people home for the holidays that type of thing, kids home from school possibly," said Ball.
Many people living in this neighborhood, are growing tired of the crime.
"We've been egged and we've had vandalism things damaged on the house, it's an ongoing problem," said Kay Metz, a resident of one of the neighborhoods vandalized.
Metz says he knows police can't be everywhere, and is asking his fellow neighbors to help.
"A lot of times you get a car coming through several times, that's suspicious, and so people need to write to license numbers down, if they got a video camera, video the rig, anything we can do to help the police," said Metz.