Wash. meth team to disband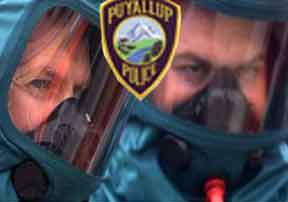 Associated Press - November 30, 2008 2:05 PM ET
PUYALLUP, Wash. (AP) - Puyallup is disbanding a police team that has dealt with methamphetamine labs after the city was cited for not protecting officers from hazardous chemical exposure.
It's part of a deal with the state Department of Labor and Industries. Under terms of the deal, Puyallup will not pay $1,500 in fines for six safety violations it received in December 2007.
Instead, the city agreed to let the Pierce County Clandestine Laboratory Team handle its meth lab calls in the future and to start training its jail employees in decontamination procedures.
The change will take effect by the end of the year.
Puyallup City Attorney Cheryl Carlson told The News Tribune the resolution was a good one for everyone involved. In January, she filed an appeal to fight the citations from L&I.
Information from: The News Tribune, http://www.thenewstribune.com
Copyright 2008 The Associated Press. All rights reserved. This material may not be published, broadcast, rewritten or redistributed.