Prosser Looking for Back-to-Back State Titles
Posted:
Updated: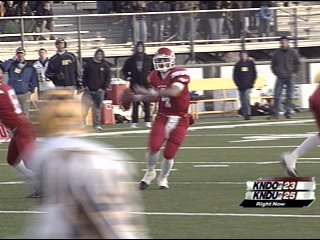 PROSSER, Wash. -- Quite a trophy case at Prosser. State football titles in 1992, 1993, 1999, and 2007. And in just a couple of days, they could add 2008 to that list.
The Prosser Mustangs are hoping to deliver big this Saturday in the 2A State Championship Game against Lynden. They are hoping they can deliver themselves an early Christmas gift, back-to-back state titles.
Last season, the Mustangs skated to the state title, never losing by less than 17 points and the players still remember it like it was yesterday.
Prosser Receiver Kirby Moore says, "It's a feeling you just can't recreate, something just happens. It's what we're hoping for this year."
Head Coach Tom Moore says, "It sort of satisfies what we've been doing all year, justifies how much work you put into it, and it's just great for the kids. They get to experience it. We want these guys to experience it"
This season, the Mustangs started the playoffs by busting up Selah, 53-14. Then, they slipped by Othello on a late 4th quarter touchdown, 33-28. Finally, they pounded Burlington-Edison last Saturday, 41-28, to reach the title game.
So what's on the Mustangs minds going into this weekend.
Senior Center Scott Donovan says, "It's gonna be my last game, so I am going to leave it on the field, leave everything, and play my best."
Kirby Moore says, "We have to eliminate distractions and act like it's another game."
Tom Moore says, "Once the game starts, it's football. Once the game starts, I think things will fall in place."
The title game starts Saturday at 1pm at the Tacoma Dome.