Sarkisian is New Washington Football Coach
Posted:
Updated: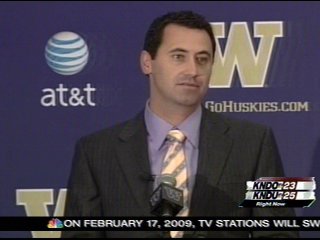 SEATTLE, WASH. (AP) -- Steve Sarkisian has already been successful selling air. So, heck, selling 105 Washington football players, plus wavering recruits, angry fans and turned-off boosters on how he will quickly turn around their rock-bottom Huskies should be no problem.
"I'm going to bring a lot of passion to these kids. We just have to change the way they think," Sarkisian said after being introduced as Washington's third coach in five years Monday morning.
After ending his career as a quarterback in the Canadian Football League a decade ago, the former star at BYU briefly worked in the dot-com world.
"I was selling vapor. We hadn't even made a product yet - but I was selling it," Sarkisian said with a huge smile.
Minutes earlier, a couple hundred fans, cheerleaders, alumni and students chanted "Sark!" and the school's band played "Bow Down to Washington," as Southern California's offensive coordinator was hailed as the Huskies' anti-Tyrone Willingham, Sarkisian's failed predecessor.
"I love it. Wow, what a moment!" a wide-eyed Sarkisian said, looking to his left past his wife, his 6-year-old daughter, Ashley, and 3-year-old son, Brady.
There, he saw four shirtless students who had S-A-R-K painted in Husky purple on their chests."I can't wait to get this thing going," he said.
The 34-year-old Sarkisian got a 5-year deal worth $10 million plus incentives for his first head coaching job as the third-youngest coach in major college football, after Lane Kiffin of Tennessee and Pat Fitzgerald at Northwestern. Sarkisian will continue to coach USC through its Rose Bowl on New Year's Day against Penn State, while recruiting for Washington.