'Green' Beauty Brands and Products
Posted:
Updated: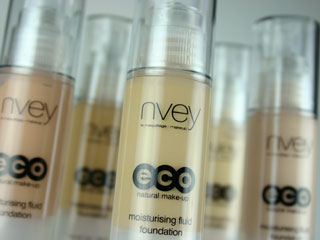 By Shahnaz Khan
Provided by WorldNow
Next time you are ready to re-stock your vanity, why not take a look at what is available on the "green" market? You might be surprised to find that there is wide variety of personal care products that are made with both your personal health and the wellbeing of the environment in mind. With consumers growing more concerned about what they are rubbing into their body and the size of their carbon footprint, manufacturers and retailers are listening and providing luxurious, products for everyone. These brands will keep you covered from head to toe.
Dr. Bronner's Pure-Castile Soap has long been considered a cult product with more than 18 different uses including shower gel, dish and laundry detergent, toothpaste and shampoo. Made from organic and fair trade oils, the soap is biodegradable and comes packaged in a 100% post-consumer recycled plastic bottle. Try the classic Peppermint fragrance for a fresh tingly clean.
Committed to providing good quality, natural hair care products, Frederick Fekkai has released Au Naturel, a plant-based collection of hair products free of sulfates, parabens, dyes and synthetic fragrances. The products are packaged in containers made of 40% recycled materials. Try the Au Naturel Sheer Styling Gel to keep your hair in place, naturally.
New Leaf Organics by Smith & Vandiver is an earth friendly brand which uses organic ingredients, post-consumer recyclable materials for packaging, and operates its plant using 100% wind power. Their entire product line has been Certified Organic by OASIS and will keep your skin squeaky clean and well moisturized. You won't be able to resist their Nourish Shea Butter Body Cream filled with luscious shea and cocoa butters, avocado and olive oils, scented with bergamot (type of citrus) and lavender.
JR Watkins Natural Apothecary products are made from sustainable, renewable resources and promise to be free from harmful materials such as: acrylates, carbomer, PVP, chemical preservatives, silicones, quats, talc, parabens, sulfates, chemical sunscreens, petro chemicals, glycols, DEA/TEA-synthetic stabilizers, formaldehyde donors, 1,4 dioxanes and polymers. Try the Peppermint Rejuvenating Foot Cream, filled with peppermint and natural oils to soften and refresh your tired, aching feet.
green by nature promises that every product on its bath and body care line is 100% free of parabens, sulfates, DEA, petroleum, propylene glycol, sacchrine, dioxin, and phthalates. They contribute 1% of net annual sales to 1% For The Planet, an alliance of businesses that understand the necessity of protecting the natural environment. Try the lip butter available in irresistibly delicious flavors like lemon-ginger, mint-green tea, and almond-cocoa.
Since 1995, Naturopathica has been dedicated to producing innovative natural beauty products using only the highest quality natural ingredients. Free of synthetic solvents, thickeners, and emulsifiers, they contain no petroleum-based ingredients, artificial dyes, or fragrances. They use green energy, reuse and recycle all viable shipping and packaging materials, and use minimal outer packaging to eliminate waste. Try one of their Cleansers enriched with gentle ingredients like Aloe and Chamomile that you and your skin will love.
Pangea Organics Ecocentric body care enriches its products with herbal extracts and essential oils and looks for ingredients that won't harm you or the environment. These products contain no synthetic preservatives, petrochemicals or parabens, and the product boxes are made from post-consumer recycled paper and organic plant seeds which can be planted in the earth. Try one of their luxurious facial creams like Malagasy Ylang Ylang & Linden Flower which is great for all skin types.
Since the 1920's, Weleda has been committed to their motto: "in harmony with nature." Their products contain no synthetic preservatives, colors, flavorings or raw materials derived from mineral oils, and have been certified Organic by The Natural Standard. Their respect towards nature is reflected by their commitment to sourcing sustainable resources and using organic and natural ingredients. Try their natural deodorant made without aluminum salts and phthalates; or their toothpaste that is made with herbal extracts and essential oils and is free from artificial ingredients, fragrances, bleaches and chemical preservatives
NVEY ECO, Organic Makeup make-up line will provide you with everything you need for a beautifully made-up face! Created from organic plant and mineral ingredients, Nvey products do not contain any parabens or synthetic preservatives. They are free from SLS, propylene glycol, GM, petroleum and talc. Try their Organic Moisturising Mascara for soft plump lashes or the Organic Lip Lustre for deliciously glossy lips.