Rotary Club Members $11,000 in Toys for Operation Santa
Posted:
Updated: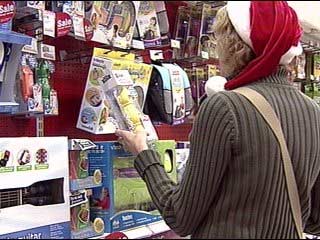 YAKIMA, Wash.- Members of the Yakima Sunrise Rotary Club are Santa's little helpers today and each of them are assigned 16 children to shop for.
"They each have a tag and each one has their name, their age and a list of what they want," said Donna Sorensen, the President of the Rotary Club.
The elves split into groups and went to different department stores in Yakima. I followed the group at target as they collected toys for more than 80 children.
"They're foster kids, they may not have their own home so this is going to bring a little joy into their lives," said Sorensen.
And the gifts aren't so little the club spent $11,000, double last year's contribution. They bought everything from toys for infants to electronics for seventeen year olds.
"There's truly joy in their eyes. It just warms you heart...this is what our club is all about, giving to the community," said Sorensen.
Rotarians say today's shopping spree will help many foster families get through the holidays.
"Foster parents are doing the best they can to raise these kids to give them a stable home," said Curtis Vangstad, the Chairman for Operation Santa.
Elves spent four hours trying to choose the gifts and the Chairman says the time and money was worth it. He remembers one girl's reaction last year.
"A little girl came up, we put her on a bicycle she backed away and we said no, that's yours and she started crying," said Vangstad.
And he hopes all the kids this year, will enjoy the gifts as much as she did. And for the foster kids, Christmas is coming early. Rotary club members will hand these bags out on December 17th.