Two Men Arrested In Idaho After Pasco Homicide
Posted:
Updated: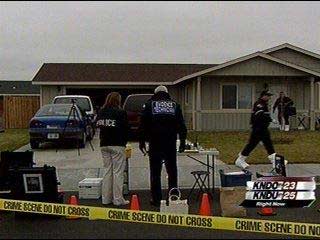 PASCO, Wash.-- On Monday night at 505 Manzanita Lane in East Pasco, 48-year-old Alfredo Garcia was shot and killed.
His wife 38-year-old Maria Garcia Ramirez, also suffered several gun shots wounds. They live in one of many Habitat For Humanity Homes. Deputies in Idaho have arrested two men for the homicide.
The suspects are brothers. 25-year-old Jose Garcia Morales of Pasco, and 28-year-old Ramon Garcia Morales of Kennewick.
Both men are being held at Elmore County Jail, just outside of Mountain Home, Idaho, near Boise.
On Tuesday, crime analysts were looking through evidence at the house. Three people at Kamiakin Apartments in Kennewick were questioned in connection to the homicide.
Kamiakin High School was put on lock down for close to 45 minutes. Pasco police say they still don't know what caused the shooting.
"The prosecutor's office right now is actively working on getting warrants for their arrest to detain them, they will remain in custody until we determine, how to bring them and get them back here," said Captain Jim Raymond, with the Pasco Police Department.
"There is a possibility that yes, there are some family relationships, again those relationships at this time are still being investigated," said Raymond.
We also know two teens and a child were in the house at the time of the shooting. The children are safe with family relatives.
Maria Garcia Ramirez, was taken to Lourdes Hospital on Monday night. She's been air lifted to Harborview in Seattle, where she's been upgraded to serious condition.
Alfredo Garcia's body was taken out of his home around 3:50 p.m. on Tuesday. The autopsy was scheduled for later that night.