Mitchell Takes Shot at CBC
Posted:
Updated: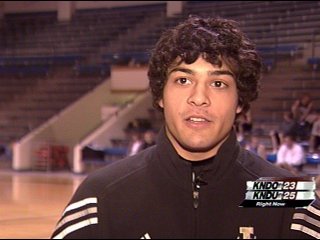 PASCO, Wash. -- Kennewick Lion Robbie Mitchell simply dominated the high school football fields and basketball courts in the Tri-Cities.
Kennewick High Head Coach Bill Templeton says, "I don't think there's been a player like that in this league. He's the best football player I've known."
In Mitchell's senior year in football, the Lions went to the state quarter finals and Mitchell had a league-best 16 touchdowns. But at 5'7" 170 pounds, Mitchell wasn't given a chance to play at the next level.
Both Robbie Mitchell and Ross Thoelke starred on the Kennewick High football team but after limited scholarship offers, they ended up at Columbia Basin College on the basketball team. They help run a fast-paced offense that aims at scoring 85 points a game.

Mitchell (guard) says, "I really didn't know what I wanted to do, whether it was football or basketball, or anything, and I ended up here."

Thoelke (forward) says, "I really wanted to play at WSU, honestly to begin with. But, by the time I figured out that they weren't coming with the money, it was too late."

Are they angry they aren't playing football?

Mitchell says, "When I watch football on Saturday's, I miss it a lot. But, it'd be kind of tough in college, to play two sports."
Thoelke says, "Football was my passion coming out of high school, but come to think of it now, it's saving my body. I can't complain about playing basketball at a college level."
Right now, they are just happy to be working through their journey at CBC.