With High Winds Be Prepared for Power Outages
Posted:
Updated: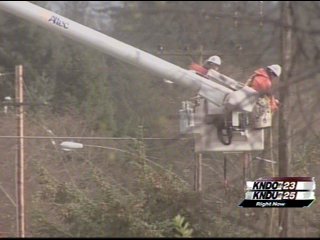 Besides snowfall there is also a considerable amount of wind and that could cause a power outage. If you see a downed power line call your utility company immediately. Do not touch it and keep children far away.

Another problem is people calling 9-1-1 about a power outage. Unless you have an emergency call your utility company instead. Each power company has line crews on call 24/7.

Besides snow-blowers and snow plows there's something else blowing and that's the wind.

"With the wind the biggest problem is tree branches so areas that have lots of trees may have a tree branch that goes through a power line," said Karen Miller, Benton PUD.

You don't want to go near downed power lines because electricity may be going into the ground around the line. Call your utility company immediately.

"If there is an outage they want to make sure they're doing everything they can to keep their home closed up and warm," said Miller.

One of the biggest issues when power goes out is what medics call the silent killer.

"It's carbon monoxide, people need to understand if they are burning any type of fuel inside their home without it being ventilated properly they are setting themselves up for possible death," said Steve Sautter, Benton County Emergency Services.

That means generators, barbeques even warming your car up all needs to be outside.

"We had a couple of people die in Sunnyside just two weeks ago because they were working in the garage with a car running and carbon monoxide overtook them and they both died," said Sautter.

With these weather conditions make sure you have flash-lights ready, battery powered radio, enough food and water for three days and lots of blankets to keep warm.

If the power goes out try to remember what you had plugged in and turn those items off, like an iron, try to not open your fridge or freezer. Also if you need power for medical reasons have a back-up plan in place or a way to get to the hospital.