Snow Plows Cleaning The Roads in Kennewick
Posted:
Updated: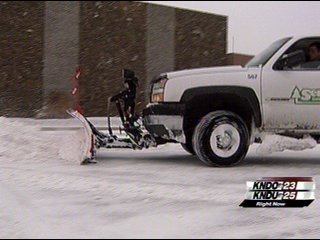 KENNEWICK, Wash.-- The snow is in, and plows are out.
"I started at five this morning," said Gil McGarrity, a snow plow driver with the City of Kennewick.
We went for a ride with the City of Kennewick, drivers say they start out with the main city roads.
"We try to get all the main arterials plowed open and then we move to our secondary roads, the main traffic carriers, and then when time allows, or the storm gets so bad then we move into residentials," said McGarrity.
A little after noon city crews had a big part of the city covered, or uncovered.
"10th all the way to Columbia Center Blvd, out Clearwater, and now we're going down Canal to Edison," said McGarrity.
Before moving to side streets drivers say there are certain regulations.
"For residentials they have a policy that they have to meet a certain depth before we can go in, because obviously we don't have the equipment or the man power to do it all," said McGarrity.
And while the city crews take care of the major roadways, drivers from Senske were taking care of several parking lots.
"Costco and Shopko," said Ron Johnson, a snow plow driver with Senske.
"Curbs are a big problem, trees, and light poles, you do a lot of backing up, you really have to keep your eye on that," said Johnson.
Keeping an eye out for safety is their number one priority.
"After we're done plowing the lots, we apply a liquid de-icing to the pavement, to try to prevent any ice build up so people have a safe parking lot to walk on," said Johnson.