Benton County Emergency Service Federal Funds Cut
Posted:
Updated: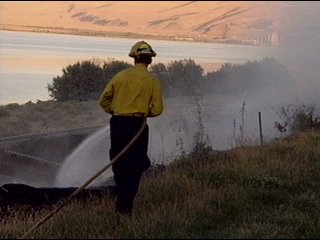 Since 2005 the federal government has cut state emergency funds by about 25 percent. Locally the Benton County Emergency Center and Fire Departments have felt the effects.
In the last year they've seen federal budget cuts in homeland security funds and that's going to hinder their ability to buy some new emergency equipment.

Bob Spencer is Manager of the Benton County Emergency Service Center. He says the federal emergency cutbacks have mainly been in law enforcement.

"They've now combined that with the overall security package so they're seeing a lot less than they used to," said Spencer.

Another cutback will be at the Chemical Weapons Depot in Umatilla and some of those federal funds are allocated to Benton County.

"We're definitely going to be laying off half of our crew because they all work for the CSEPP project so in a couple of years it will be a big impact," said Spencer.

Local fire departments are also seeing funding drop, which may jeopardize the use of the single engine airplane which fights wildfires.

"This year it's already been stated that it wouldn't be funded by the federal government. It's going to mean larger fires more fires spreading, it will mean more risk to our county residents and franklin county residents," said Chief Mike Spring, Benton County Fire Department.

The federal government also no longer funds preventative firefighting programs like fuel burns. All federal money is put into emergency funds.

"So when California is burning up or Washington or Oregon is burning up we end up in an emergency that Congress has to come together and do emergency appropriations," said Spring.

Spencer says it should be a partnership between local emergency management and federal services.

"All disasters are local, all the authorities are based locally. When something big happens they have a responsibility to provide emergency management," said Spencer.

Not only has the center seen cutbacks from the federal government they are also starting to see local funds get lowered and state funds are getting cut as well.