Many People Still Not Heeding Fire Safety
Posted:
Updated: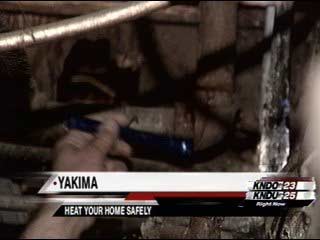 YAKIMA--The deep freeze Central Washington is in is also what's behind a lot of fires--many of which could be avoided. Two fires Tuesday in Yakima, and one over the weekend. Firefighters say all three were due to people trying to turn up the heat.
Many people are putting too much pressure on their electrical systems, or just not paying enough attention.
Workers for Apex Plumbing are busy. They've taken at least a hundred calls this week to thaw frozen pipes. Windy conditions actually freeze more pipes than a deep freeze would. That brings on extra fire danger, but it can be avoided.

"Put the space heater in front [of the pipes] at least a couple feet away from a wall or a cabinet," Ryan McNett, Apex Plumbing, said. "So it's not directly on a surface, and let that heat build itself up."
That slow heat is much safer than a quick fix strategy.

"A lot of people have used the little butane torches [to thaw out their pipes]," Dep. Fire Marshal Ron Melcher said. "That's an excellent way to cause a fire."
Make sure your heating equipment isn't worn out. Last night we saw what can happen. Fortunately nobody was injured in the fire on Castlevale Blvd. but a lot of damage done. That was all because the residents were using faulty heat tape."
Melcher said ten years is the limit on how long you can safely use heat tape.

"It's not gonna last forever; you do have to replace it. It's served you well it's time to go out and get a new heat tape."
The other two electrical failure fires this week were due to space heaters. Heaters can last longer than the tape, but it depends on how often you use it.
The safest way to keep warm? Just pay attention.

"Anytime you put a heater in or you're using heat tape, you just have towatch it," McNett said. "You just can't plug something in and walk away from it and expect it to work."