Kennewick School District Drives Roads to See if they're Safe for Buses
Posted:
Updated: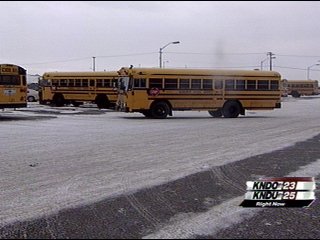 KENNEWICK, Wash.-- School district staff have a lot of things to take into consideration when deciding school delays or closures on snowy or icy days. Kennewick School District goes straight to the source, the roads themselves.
Transportation Manager, Ethan Schwebke, gets up early and drives all around Kennewick. He drives the bus routes and areas with steep hills looking for a number of different factors. Schewebke says he looks at "the roadways, the walkways, what's the accumulation, what's the snow like. Is it soft and fluffy like it is now or is it a lot of moisture content and can turn into ice real quick once your roll over it?"
Depending how the roads are, Schwebke makes the decision. He explains, "Just about always start with a delay, a 2 hour delay, then assess everything after the sun comes up." So the decision is subject to change, but he likes to make up his mind as early as possible.
If parents don't feel comfortable with the driving conditions, they have other options. Lorraine Cooper, Director of Communications and Public Relations, says, "If they [parents] feel that the conditions are unsafe where they live, it is okay to keep your student home. It's an excused absence or excused tardy. You just need to bring a note."
KSD staff all say they put safety first. They avoid putting drivers and students on the roads if they're dangerous, and avoid using chains as much as possible.
Schwebke says some school bus safety depends on how safely other cars are driving. He asks for other drivers to give the buses extra room, make sure you stop when their red lights are flashing, and drive slowly if students are around.