Black Rock Reservoir Proposal in Jeopardy
Posted:
Updated: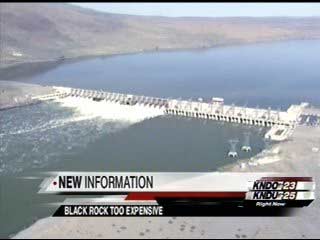 YAKIMA, Wash.- The U.S. Bureau of Reclamation recommends the federal government should not build the proposed Black Rock Reservoir near Sunnyside.
Employees from the Bureau of Reclamation have studied the proposal for five years and now they're saying its not worth it.
The study released today shows that Black Rock would only return 13 cents for every dollar invested. The construction of the reservoir is estimated to cost $7.7 billion. The actual operation would cost another $200 million every year. Members from the Yakima Basin Storage Alliance have supported this reservoir proposal for years and they say they're determined to keep working at it.
"We have got to translate the studies into solutions and we're going to have to push the bureau to get that done and that will mean yes, we'll be meeting with lots of people," said Charlie de La Chapelle, the Vice Chair for the Yakima Basin Storage Alliance.
The black rock project proposed to turn 1.6 million acres of land into a reservoir. The reservoir would draw water from the Columbia River to provide more water supply for farmers, increase stream flow for fish and improve conservation.
Employees from the Bureau and the Department of Ecology say they're still going to look for smaller and affordable projects that could improve all of these things. They will also be accepting public comments on the reservoir study until February 3rd. After that, they'll come up with their final report and release it early Spring.