Shoppers Hurry To Get Done Before Storms Hit
Posted:
Updated: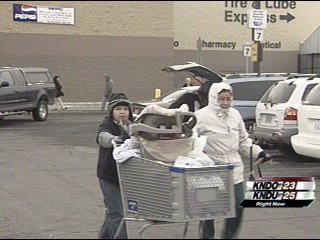 YAKIMA--Only a few more shopping days left until Christmas, but it is not just the time limit causing a frenzy at the stores.
Everyone is trying to finish up their shopping before the next big storm hits.
"It's completely crazy the parking lot's full," Anna Dahl said. "You're in line at least 20 minutes."
'Tis the season for crowded parking lots and long lines. But, when it's one of the few safe days to drive to the store, the shopping gets more stressful.
"Electronics was [crowded] as usual," Damon Wilkens said.
"Checkout was really long," his wife, Ahloma, added. "We've been here for almost 3 hours, and it's the first store we've hit."
The Wilkens' are one of many families seizing what could be the last safe shopping day before Christmas. Circumstances out of their control kept them from getting it done earlier.
"[We haven't] had a chance to really figure out what everybody wanted yet," Damon said. "Now we know and now we're out here doing it."
"The blizzard last weekend made it almost impossible to go shopping," Ahloma said.
If you're hoping for some good last-minute deals, you may have waited a bit too long.
"I didn't notice anything outrageously great-priced, toys, clothes, or food," Michelle Baumbach said.
These shoppers hope they've bought everything they need before the next time Mother Nature comes out.

"If I know that there's gonna be weather changes or disturbances then I definitely will come out early," Dahl said.
"I like to get it done, get cozy in the house, let the kids play outside and not have to worry about going anywhere," Baumbach said.