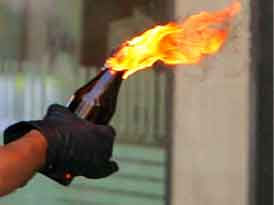 KENNEWICK, Wash-- Police are looking for suspects who attempted to burn-up a truck with a homemade weapon.

Someone made a molotov cocktail to try to light a pick-up truck on fire. Fortunately the bottle did not break at impact and the attempt of burning up the truck was, well of course unsuccessful.

This happened on the 2600 Block of South Edison St. in the neighborhood behind Southridge High School.

The truck's owner saw that there was a big dent on the side of his pick-up. Then he noticed what appeared to be wine bottle on the ground. It was filled with an unknown flammable liquid and capped with a rag.

The truck was parked outside his home and no one was inside when it happened. No information is known about the suspects.

"The idea is to put some kind of flammable liquid in a bottle put a rag on the top of it and light it on fire and the idea is when it hits that liquids going to come out and catch on fire from the rag," said Ofc. Stan Howard, Kennewick Police Department.

Molotov cocktails are used a lot during riots and protests. They are common because anyone can make them. Police say using this is attempted arson.

If you have any information please call Crime Stoppers at 1-800-222- TIPS.