Smoking Ban in Oregon Also in Bars Starting in 2009
Posted:
Updated: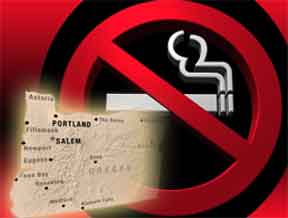 UMATILLA, Ore.-- The clock strikes midnight and it's time for smokers to put out their cigarettes, at least inside bars.
Oregon joins Washington on the smoking ban and some aren't too lit up about it.
"I think they're stepping on our rights, everybody has rights as an American," said Schmittie, a smoker inside Nick's Restaurant and Lounge in Umatilla.
"I've been in places where you go and eat or whatever, and others are already in there you know saying why don't you guys quit smoking, I tell them hey, I can get up and get out, you know, but they're invading our privacy too," said Doug Daniels, a smoker in Umatilla.
Others say they're using the ban as an excuse to kick the habit for good.
"Well without the ashtrays and all the people around that gives us the opportune time to quit," said Larry Long, who's trying to quit smoking.
Some bar owners are afraid banning smokes, will end up dragging their business down.
"You can tell the economy has been taking a hurt, and the non-smoking is not going to help anything at first," said Amanda Muth, Owner and Operator at Nick's Restaurant and Lounge in Umatilla.
But in the Tri-Cities, the ban has been the norm since 2005.
"People from Oregon have been coming in and one customer asked me if there was any bar in town they could go to and smoke, and I said not in the state of Washington," said Debbie Espinoza, Owner of Espo's Sports Bar and Grill in Kennewick.
Debbie says it just takes a little getting used to.
"I think initially it was hard on them, but now they've just kind of gotten in the habit of doing that," said Espinoza.
That's just what Oregon bar owners are hoping to see.
"There are certain people that say they won't come in here anymore, and if that's their attitude towards it there's nothing I can do about it, but I also think there'll be people who will come in and take their place, I'm hoping," said Muth.
Smoking or not, bars in Umatilla will be kicking off the new year with a bang.
"I'm going to have a little ceremony in the morning where we're going to breaking all the ashtrays, I think we're going to go out in the parking lot and throw them on the ground," said Muth.